If Costa Rica is your next travel destination, you have a good chance to experience a trip of your lifetime. It is truly one of the most beautiful countries in the world, and it's not just because of the wonderful nature, beaches & jungle, but also how people treat each other and care about their land. While it's no longer a hidden adventurer's paradise, tourism is relatively well regulated, making it a sustainable destination that many people love to return over & over again.
So my first piece of advice is to make an easy plan as it's probably not your last visit.
You don't have to see everything. Pick a spot, and enjoy the Pura Vida.
What is Pura Vida?
It's a local's way of saying hello, goodbye, or anything in between. The term is now well known even outside of Costarican borders and it can be loosely translated as Good Life.
The true meaning of "Pura Vida" is a reminder that we shouldn't worry or stress too much over the things we can't influence. Rather we should focus on enjoying the simple beauty of life itself with a positive approach to everything that comes and by living as close to nature as possible.
This type of lifestyle is completely different from our western selfish & stressful attitude and it makes any visit to Costa Rica such a remarkable experience. But be aware: globalization, greed, and mass tourism is spreading quickly, so don't get beat down if you don't feel the Pura Vida spirit right away. Keep your eyes open and enjoy the presence of the true Ticos whenever you encounter one.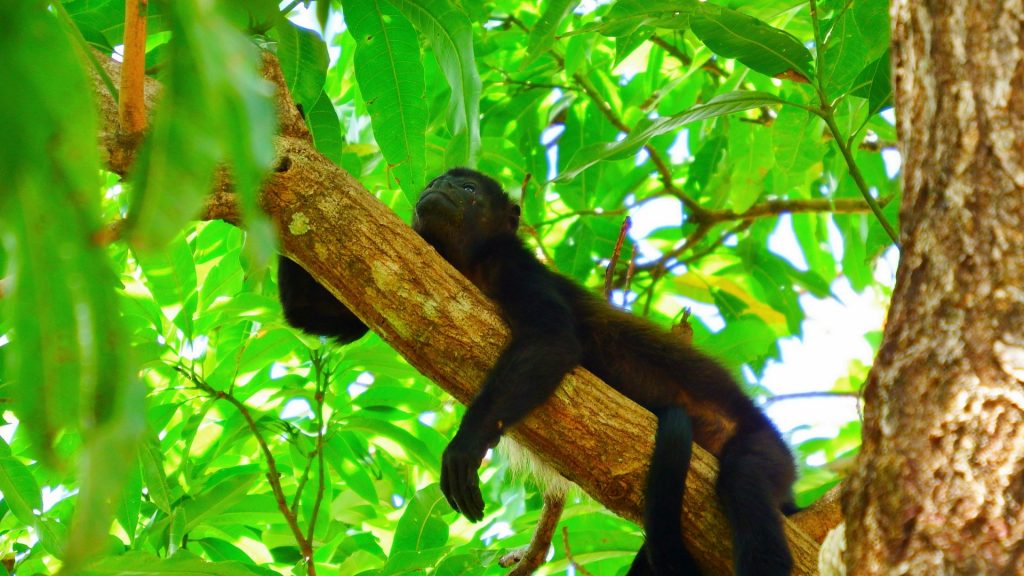 When to visit?
Timing is important as there is a very strong rain & dry season in this part of Latin America. The dry season runs from December until April, wet season from June until October. November & May are the shoulder months. Some parts like Guanacaste are drier, while the Caribbean & the jungles in the mountains are rainier.
The wet season is also the time when there are more swells & bigger waves. So if you are an advanced surfer, you'll need to get used to getting soaked even before or after your surf session.
The dry months are more suitable for longboarders & beginner surfers. The waves are usually slow & mellow. The weather can get oppressively hot, so plan your surf sessions around mornings or sunsets. At the end of the hot season, the land is quite dried out and not as beautiful as in the rainy months.
To me, the best time to visit is November. There is still some chance to score a decent surf swell and the country is in full green after the rainy season. The weather is usually tempered by a shower at night.
The crowds are always following the sun, so if you don't mind the rain, you should be able to avoid most of the tourists. The locals love their beaches too, so it's important to remember that there will be thousands of people picnicking on the beach anytime there is a big holiday like Christmas or Easter (Santa Semana week).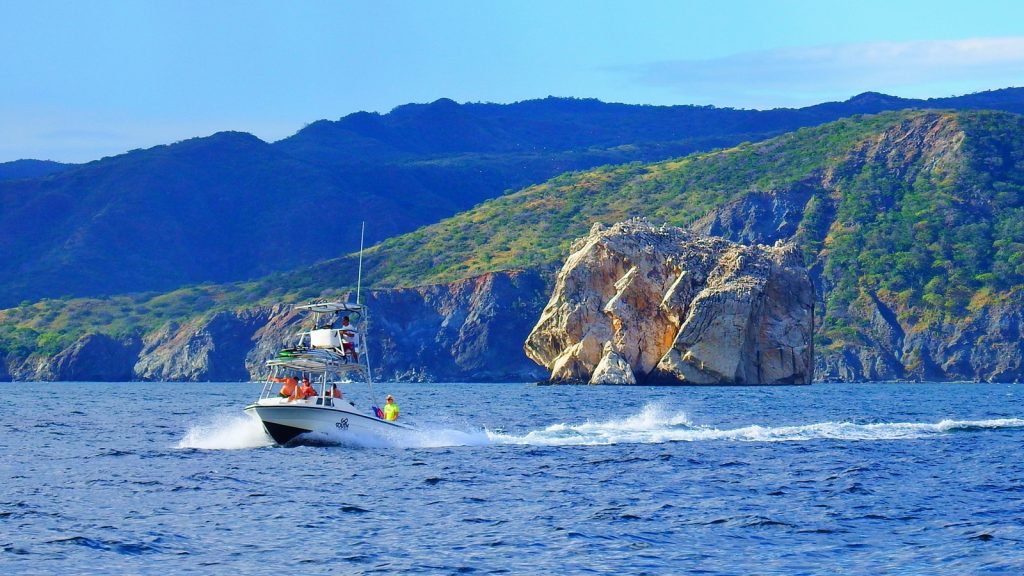 Where to go?
If surfing is your primary goal, choose your base location wisely according to your skills & interests. Be aware that all the surf spots are quite far from the main National Parks so if you want to visit famous places like Arenal Volcano, you'll need to arrange an overnight trip. Or do it at the start, or by the end of your journey. I'll be posting a more detailed Costa Rican spot guide one day, but here is a little chart that should be helpful:
Beginner surf spots:
Tamarindo – easily the best beginner wave in CR

– can get ultra crowded
Guiones (in Nosara) – stick to the inside, only paddle out when it's small
Playa Hermosa (next to St.Teresa) – not the main beach in Santa Theresa
Some other spots like Samara, Cocles, Playa Grande, Manuel Antonio are good for beginners too – as long as the waves are reasonably small and the beach is not too steep or rocky
Intermediate surf spots:
Avellanes – my favorite! – has both reef & sandy peaks, chill-out vibe out of town
Playa Grande – has many peaks, avoid the crowd on the main one
Guiones (Nosara) – can be a challenge because of the long paddle
Other good places are Jaco, Playa del Carmen, and Ollie's Point
Advanced surf spots:
Witches rock – another of my favorite waves

– boat access only
Playa Negra – probably the best reef break in CR, always crowded
Santa Teresa – can be a strong-barreling beach break – not for beginners!
Pavones – one of the longest waves in the world, need bigger swell
Generally, the Nicoya peninsula is a surfer's prime destination because of the wide variety of waves and relatively easy access.
But there is a paved road now all the way to Golfito, which makes the places like Dominical, Manuel Antonio, Pavones, or the Osa Peninsula more accessible.
As a first time visitor, I would probably avoid Jaco – a big tourist town past its glory, as well as the Caribbean – questionable wave quality and lots of rain. But both of them are worth checking out if you have some extra time and the forecast is good.
If you plan to rent a car, you'll become a lot more flexible. But remember that there are still a lot of unpaved roads so travel times are often double of your original estimation.
Driving in Costa Rica is easy, the main roads between towns are well-maintained and marked, although mostly single lanes which makes the truck overtaking a real mission. The side roads, including many beach access roads, are mainly gravel roads, so consider renting a 4×4. Probably the worst of all is the road to Santa Teresa. But in good weather, it is still possible to do it even without a proper 4×4 – if you are careful. Try to avoid San Jose traffic jams at any cost. Driving at night is not recommended. However, I find it much faster as there is no traffic – you just need to drive more carefully as the roads are full of nocturnal animals.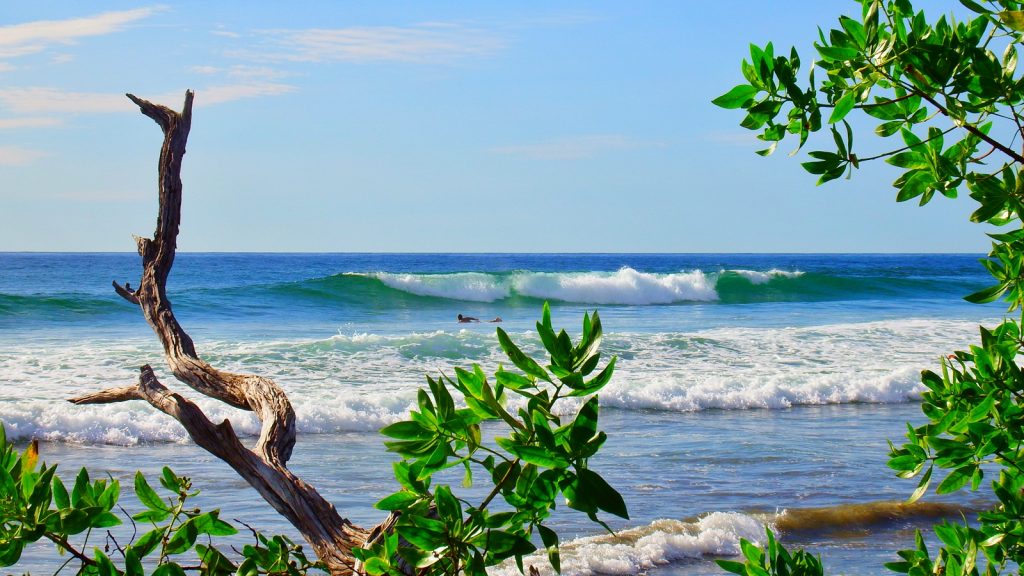 Travel tips
First thing you probably notice in Costa Rica is the abundance of wild life.
There are howling monkeys in the trees, iguanas sunbathing on the streets, many kinds of parrots & birds flying around, and other fantastic creatures like the coatis or sloths.
The ocean is full of fish, turtles, dolphins, and even whales. There are (almost) no shark attacks, but stay off the crocs! They dwell in the estuaries and come out into the river mouths before dawn or at the sunset.
As in any tropical country, mosquitos are frequent but malaria is rare in most of the areas. There are all kinds of poisonous insects, snakes, spiders & frogs in the Costa Rican jungles. But you don't need to worry about them, they are hiding very well and not found in coastal areas.
Take care of your budget. Costa Rica is no longer any cheap backpackers getaway.
They call it the Switzerland of Latin America – which means also high prices. There are some advantages of it though – some of them being good services like roads, hospitals, hygiene, general safety, and comfort – compared to more survivalist types of experiences in cheaper travel destinations like Peru, Colombia, or Nicaragua.
Surprisingly, you don't need to speak any Spanish in many of the tourist frequented areas, English is just fine. Also, many prices of tourist services are still in USD. The taxes are high so people prefer you to pay in cash. Card payments in remote places could still be limited.
While being considered a very safe place, it can change quickly at night. Try to avoid walking through the non-touristy parts of the towns when it's dark. In some places like Tamarindo, beach access is prohibited after sunset. Watch out for some hot-tempered Latino drunks when visiting the night clubs. Stick with friendly locals.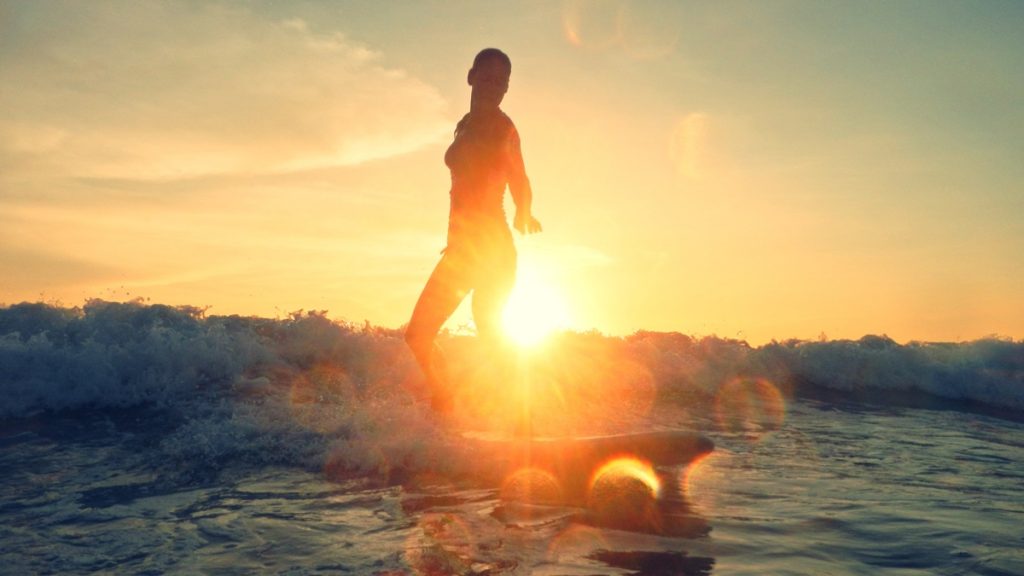 What else to enjoy in Costa Rica?
Apart from surfing, taste the best and enjoy nature.
There are no man-made wonders or historic towns to admire, but the Costarican nature is magnificent. Different types of jungle forests, active volcanos, hot springs & wild rivers are everywhere. Popular activities include hiking in the jungle, zip-lining, river rafting, diving, fishing & horse-riding. Be sure to visit & support one of the animal rescue centers too.
The local food is very rich. Sadly, most of the local population seems to prefer fried and sugary fast foods, but there are plenty of options for how to avoid those pizza, burger, burrito & coke combinations. Gallo pinto is a typical breakfast and Casado a style of the main dish. Fresh coconuts are everywhere, fruit smoothies are delicious, and you can taste some of the best pineapples on the planet. Costarican Ceviche is a delicacy, and nothing beats the fresh Mahi-Mahi after a good surf session.
To sum everything up, Costa Rica is not about riding world-class waves, but it's the rich lifestyle that's as close to the surfing ideal as possible. Go ahead and enjoy it!