Barbados may not be a typical surf destination, but there are waves almost all year round and it's possible to learn to surf on a couple of spots. There is no pure sandy beach break on the island, so reef boots should be worn by beginners at all times.
If learning surfing is your primary goal, Barbados may not have as perfect conditions as some other sandy destinations. But spending a week or two in the Caribbean while surfing is a fantastic combination.
Beginner waves in Barbados can be found on the south coast where the swells are created by the trade winds blowing from the east. Renting a board or arranging a surf lesson is easy in one of the local surf schools, a good surf guide or advice is essential in order to select the best surf spot based on current surf-wind conditions, especially because the drive between them is quite time-consuming.
Handy hint: you can also check the local webcams – link included below the article.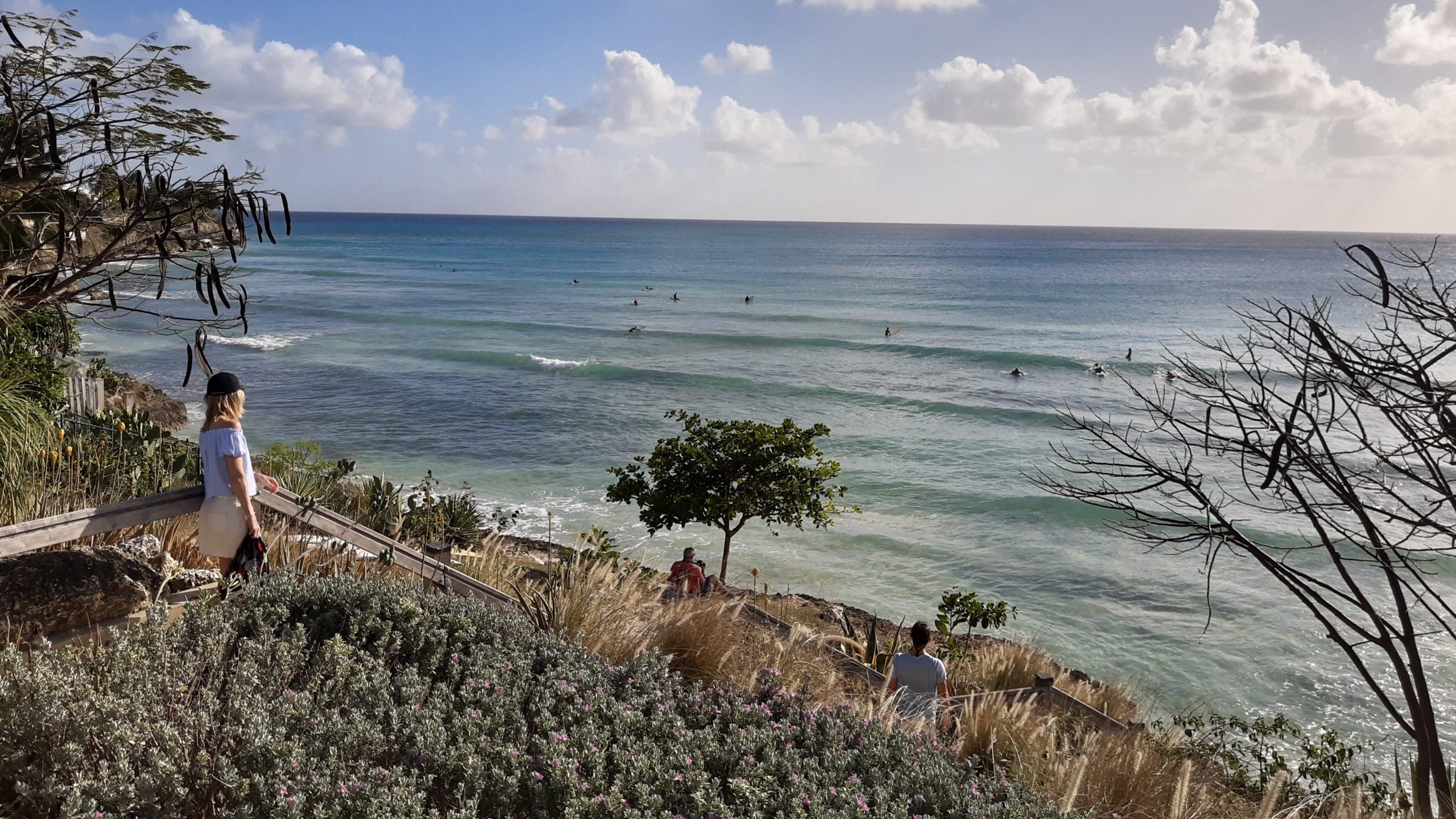 #1 – Freights
This is the most beautiful & pleasant surf spot for learning in Barbados. Freight's bay rarely gets too big and the bottom is forgiving, however not without rocks. It is sheltered from the trade winds which means clean conditions but also needs a bigger swell to work. The beach is tranquil & beautiful, maintained by a local surfing community so pay respect to them.
Usually, there are some friendly turtles feeding on the grass which makes the surf session here a unique experience.
The waves are small & suitable for longboards, multiple sections help spread the crowd. The usual wave direction is left or straight, sometimes there is a shorter right too. Water entry & exit is easy, usually right under the stairs. Watch out for rocks in the shallow inside sections.
Good advice: Avoid paddling out around 10 am – along with all the other surf schools.
There's no beach bar or shelter on the beach, but it's very nice to chill there under the cliff after a session. Watch out for high tide when blankets and everything on them gets washed out.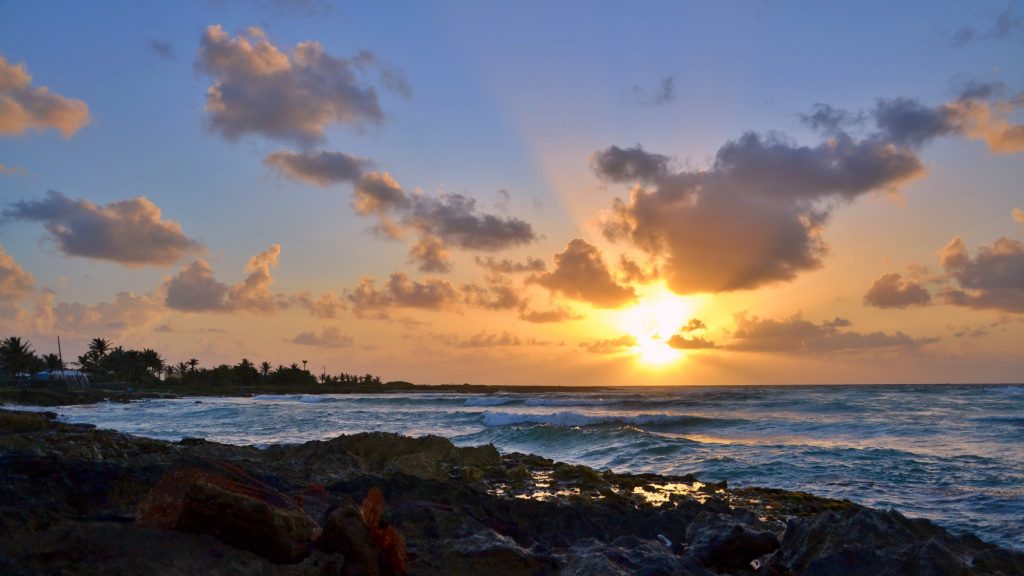 #2 – Surfers Point
This spot can be intimidating for complete beginners. It's almost always windy, with rocks sticking all around, and it can get crowded as there is only one peak.
However, the wave is very slow, making it easy and wipeouts are usually forgiving. Good for learning lefts. Try to avoid shallow inside sections or paddling too far out into the currents. Enter the water from a small bay tucked behind the peninsula to avoid a long paddle. There is a surf cafe & school right in front which is handy if you wait for better tide/wind or the crowd to thin out.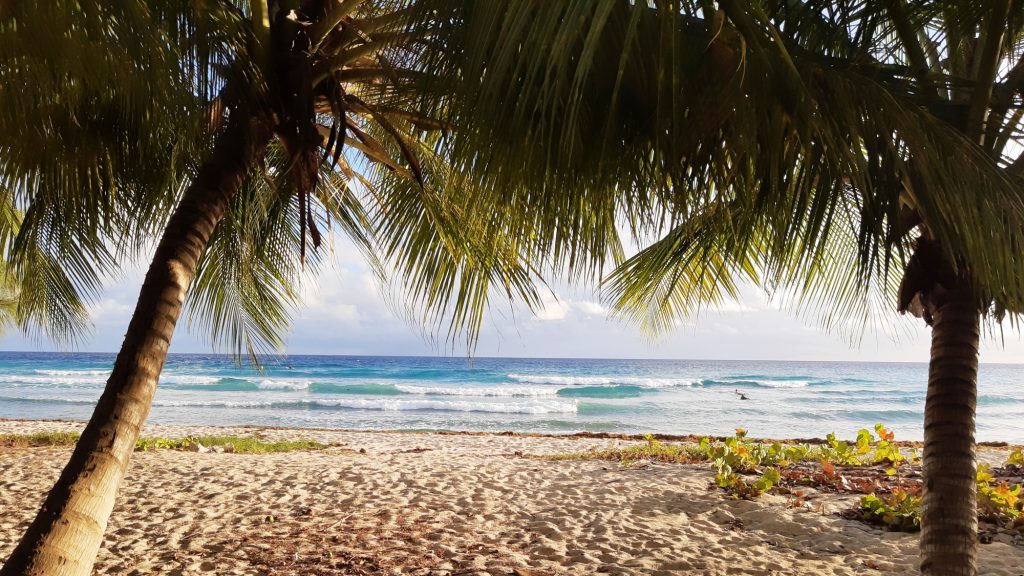 #3 – Drill Hall
Situated on the south-eastern end of the island, this spot has some waves even when everywhere is flat. Enter via a small road behind the racing course, next to the police station, then drive almost to the end of a big car park under the trees painted with faces, then find the main peak close to the graffiti wall saying "locals only". But don't worry about it too much – I believe most of the locals like to ride more quality waves, leaving this one to the beginners and tourists.
There can be several peaks, left & right, some rocks on the bottom. Paddling out is easiest from the right side where there are fewer waves.
Sometimes there is a guy selling refreshments from a cooler on the beach. But don't count on it and bring water.
---
A couple of alternatives
There are other waves around the island. Most of them have more sharp reefs, bigger waves, or longer paddle outs. But when the conditions are right you can find some beginner-suitable waves for example in the Dover beach area or even at Mullins, tucked on the east coast.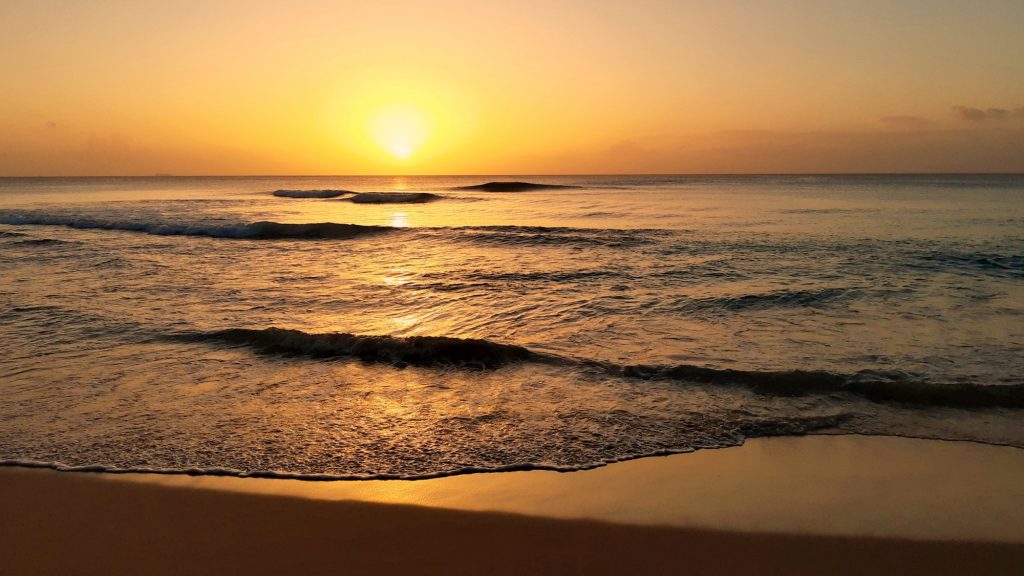 Have you tried some beginner surf spots in Barbados?
What's your favorite?
Feel free to comment below.
Beach Webcams Barbados: www.iwcpinc.com
Local surf school I can recommend: Barry's surf school
(the other schools are ok too, but I have no personal experience)